About Us
The renowned companies of the Indian Gold market, PP Jewellers and Orelia the Gold have come forward as a joint venture to constitute ORELIA THE GOLD, a refinery to produce internationally certified quality of gold and silver. PP Jewellers is India's one of the largest manufacturers and exporters of hallmarked jewellery where Orelia The Gold has established its name with in short span of time in the realm of bullion and jewellery market. Today, Orelia The Gold is a new age establishment which aims to become the de-facto benchmark for the Indian market.
This venture has long sighted vision and professionally driven management to meet the most stringent regulatory standards of the precious metal industry. Orelia The Gold has an installed capacity to refine approximately 36 tonnes of gold ore and 58 tonnes of raw silver. Orelia The Gold is determined to deliver purified Gold/ Silver in form of gilt-edged bars and coins to clientele.
The ORPL range of services
Refining Services and Fabricating Precious Metal Products .
A complete range of gold & silver bars of all shapes, weights, purities and sizes.
Fully integrated bullion trading desk, which covers all financial and trading aspects of gold & silver for our customers
Complete production and delivery service: our in-house systems efficiently and securely manage stock orders, international & domestic logistics and metal accounting 24/7.
Group Companies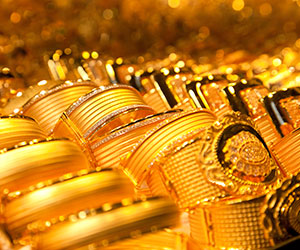 Behind Orelia Refiners Private Limited are a group of companies which are known as much for their excellence as much for the trust and loyalty they have earned from their customers.
PP Jewellers Group (PPJG), established in year 1980 by Mr.Kamal Kumar Gupta engaged into manufacturing, exports, wholesales and domestic sales of gold and diamond jewellery. The group has made a remarkable name in the Indian Gold Industry. The group enjoys brand equity in India and international market on account of more than 30-year-old heritage of the brand 'PPJ' and has been able to leverage its brand in the international markets also.
To know about the amazing story of PP Jewellers Group, visit: www.ppjewellers.org
---
Sant Ram Mangat Ram Jewellers Pvt. Ltd (SRMR) company is engaged into manufacturing and retail of diamond and gold jewellery since 1982. SRMR has manufactring facility at Ludhiana, Punjab which has VMC/CNC 12 Axis machines used for manufactring gold and diamond jewellery. The company has a remarkable name in Gold and Diamond Industry in Punjab region

To know more about this great success story from Punjab, log on to: www.smjewels.com.
Orelia the Gold(OTG) is engaged into trading of gold bulions in the nothern part of India. OTG has a sale of approx 6.0 metric tones of gold bulions on annual basis. Firm is being promoted by Gaurav Pashan and Aditi Pashan, who take cares for all management/strategic decisions for the firm.