About Us
ORELIA GROUP, is dedicated to providing the best artificial grass for both athletic and landscape purposes. After more than 30 years of focused development, ORELIA GROUP products, such as football turf, hockey turf, rugby turf, tennis turf, and landscape grass have served clients from multiple regions with varying needs, including professional football clubs, government bodies, schools, and countless households around the world.
We have rich experience in artificial grass production, master advanced production process and technology, and introduce a complete set of testing devices to ensure all our products are qualified.
We are committed to the development and production of artificial grass, aiming to provide better sports and life experience for our customers.
Artificial Grass Overview
Many countries across the world are subject to geographical location, extreme natural conditions and their economic conditions. Moreover, a considerable number of natural grass courts must be added with ceilings and other facilities, which makes the laying and maintenance of natural grass become more difficult. Under such conditions, artificial synthetic grass stands out due to its great advantages. Over a long term of development, artificial grass technology becomes increasingly mature and many indicators get close to natural grass, and can perfectly meet all technical requirements of professional sports competitions on ground surface.
Football Artificial Turf
Football Artificial Turf with Excellent Wear Resistant & Long Lifespan
Football is one of the most popular games. Football turf is a necessary part for playing football. During football matches, players need to flick, spike and slide the ball. If the football turf is in poor quality, it is sure to increase the risk of players getting injured, making them cannot play the game properly, further reducing the quality of football match and the viewing experience of the audience. In addition, it will also directly reduce the service life of football field.Therefore, choosing the right football artificial turf becomes very important.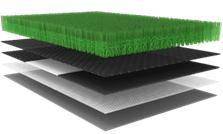 Non-Infill-Football-Artificial-turf-structure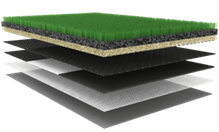 Infill-Football-Artificial-Turf-Structure
Golf Artificial Turf
Golf Artificial Turf – Maintenance Free and Eliminate Bad Weather Limits
Golf is a sport with a special appeal, allowing people to exercise and relax in a beautiful natural environment. At the same time, various international tournaments have emerged.
However, building a golf course is not hard enough, maintaining one can be a full-time job. Even worse, in the event of bad weather, training has to be suspended.
Our artificial golf turf (putting green) was born out of necessity. Artificial golf turf is designed for practising and enjoying all aspects of the game of golf. Quality golf putting green not only breaks weather restrictions and guarantees year-round training, but is also maintenance-free, significantly reducing maintenance costs.
Lawn Bowls Artificial Turf
Lawn Bowls Artificial Turf with Flat Surface & Wear-Resistance
Lawn bowls artificial turf puts a high requirement on the flatness of artificial grass. Recently, lawn bowls is getting an increasing popular. It is a high-level, detail-oriented sports, so it puts a high requirement on surface flatness. If using natural grass, it requires a high construction cost and regular daily maintenance, and is easy to have pot holes. Therefore, it is necessary to lay artificial grass. If artificial grass is poor quality, it will severely affect the competition experience, laying artificial grass with good flatness and excellent wear-resistance is of great importance.
Hockey Artificial Turf
Hockey Artificial Turf with Good Water Retention Capacity & Permeability
Hockey artificial turf is the most demanding turf among all artificial turfs, which mainly comes from the characteristic of hockey sports. During the hockey match, the ball moves quickly and players need to run quickly to grab, hit or block the ball. If the artificial turf is poor quality, it not only lowers the quality of the competition, but also increases the risk of players getting injured. So it also requires good flatness, superb water permeability and great wear-resistance in addition to comply with conventional artificial grass standards.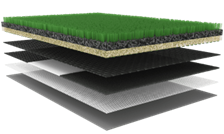 Infill Hockey Artificial Turf Structure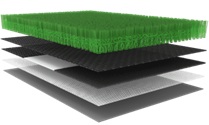 Non Infill Hockey Artificial Turf Structure
Rugby Artificial Turf
Soft & Durable Rugby Artificial Turf
When laying rugby artificial turf, the characteristics of rugby shall be taken into full consideration. In rugby matches, players have fierce physical confrontations. Besides, they have a high body weight and run up to 35 km/h. They will kick the ball with their feet, pass the ball with their hand and run with the ball in their arms, etc. If the artificial grass is poor quality, it not only affect the quality of competition, but also increases the risk of players getting injured. As a result, rugby artificial turf grass fiber needs to be soft, elastic and durable to reduce the friction on players' skin.
Cricket Artificial Turf
Non-Directional Cricket Artificial Turf
Cricket artificial turf is artificial turf laid to meet the needs of cricket playing field. Cricket is a comprehensive sport that exercises hand-eye coordination and integrates upper body movement control, skill and strength. It is important to ensure that the artificial turf is directionless and durable, especially in high traffic areas of the pitch. If the artificial turf is poor quality, it will not only affect the game but also pose a safety threat to the players, so durable artificial turf is selected.
Tennis Artificial Turf
Tennis Artificial Turf with Good Rebound & Wear Resistance Performance
Tennis artificial turf is a synthetic turf laid on tennis court. Tennis, an Olympic sport, is one of the sports that require flexibility, strength, endurance, agility, and speed. Due to the sudden repetition of frequent turns during the game, the fact that the field allows for quick movements for tennis creates an effect that increases the performance of the players. If the turf is poor quality, it will affect the rebound performance of the tennis and further affect the competition state of the players. Therefore, artificial turf with good rebound performance, wear resistance and little friction force is highly recommended.
Artificial Grass Running Track
Artificial Grass Running Tracks Give Runners Better Running Experience
Artificial grass running tracks are specially designed for track-and-field sports. Of which, running is one of the most popular events with the largest number of participants. It not only strengthens the body but also promotes the development of teamwork skills. So, running tracks are a necessary sports facility in kindergartens, primary schools, colleges and universities. Artificial grass running tracks gain its popularity due to its low maintenance cost and good weather resistance. Besides, it gives runners better running experience than natural grass.